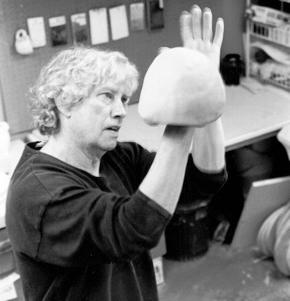 FRANK TROTZ  | in the studio
My work is all hand built, either pinch or slab. What interests me most is the movement of clay, its malleability, its flow in my hands, the colours and textures that become part of the clay, and the precious metals of the earth.
THE BEGINNINGS
I have been working in clay since 1972, inspired my a most beautiful book called Finding One's Way in Clay, Pinched Pottery and the Color of Clay, by Paulus Berensohn. In 1980, Nancy Solway and I co-founded and built Clay Design on Harbord Street. It's still there as one of the finest clay galleries In Toronto.
Very early on I came upon the experience of colouring clays, of inlaying colours in clay, and of mixing all sorts of clays together to create multi-textured pieces. Each piece, after being scraped and shaped at the leather hard stage, is sanded when it is bone dry, to reveal the colours and textures inside the clay. Most pieces are then finished with a clear glaze. Finally the metals, gold, silver and copper, are added to the finished piece. Pieces containing metals cannot go into the oven of in dishwashers. They are functional but must be hand washed in warm water.
A CANADIAN CONNECTION…
The images in my work, the simple lines or the complex mixes, small or large, reflect the land, sea and air of Canada. They have come from my many travels across this country, looking down on the land from far above. The land, the rock, the water, the highways have always been a part of my work.